Thorpe Acre 2000: Wildlife
The area has already benefitted from new planting schemes during the Spring of 1999. The most impressive area is near Stonebow Bridge, where we have benefited from the partnership with neighbours, ourselves and more importantly, the builders and Charnwood Wildlife to create a sanctury along the Black Brook improvements are being made to our park, Jubilee Park.

Other areas where more planting has taken place are: Sandringham Drive, Thorpe Acre Green and Elliot Close.
Interpretation Board was erected at Stonebow Washlands and another is installed on Kenilworth Drive. These show walkers the richness of the natural habitats created.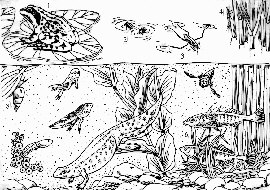 The Leicester Mercury sponsored the planting of a Millennium holly tree in the All Saints church yard
---
[Thorpe Acre 2000] [Mosaic] [Village Sign] [Finger Posts] [Sponsors] [Heritage] [Health] [Cycleway link] [Trail leaflet] [Gala launch]
Last updated June 2020